Dr. SaxLove's Saxophone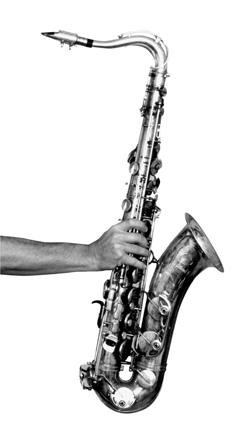 I play, and absolutely love, my circa 1990 Yamaha Silver-plated YTS-875S Custom Tenor Saxophone, serial #001752.

I found this saxophone quite by accident. I was in Rueben Allen's Sax Shop in North Hollywood and I saw this beautiful silver tenor saxophone hanging on the wall. I was playing a early '60's Selmer Mark VI tenor at the time and wasn't really even shopping for a new instrument. But for some reason I had Rheuben pull this tenor down; I played it and bought it on the spot. And I never played that Mark VI again.

In fact, I ended up loving my Yamaha Silver Custom Tenor so much that I eventually bought a matching Yamaha Silver Custom Alto and Straight Soprano. (Interestingly, I ended up selling that silver soprano to Hiroshima's Dan Kuramoto.)

In my line of the music business, I meet thousands of people face to face, and folks are constantly ogling and admiring and complimenting my saxophone. Because it's silver plated it tarnishes pretty easily and, despite my rather sporadic efforts to keep it shined, it has, over time, taken on a very lovely, soulful patina. In other words, a great sound and a great look.

An interesting side note: in 1993 Rheuben Allen did the photography for my third CD, Kokopeli.  It was during that photo session that he took the "arm holding sax" photo you see above (I love that shot).

Mouthpiece: For the longest time I played a vintage Otto Link 9 on this tenor, and always got a lot of tone compliments: deep, round, beautiful, sensuous. However, I always had trouble in the altissimo register with that mouthpiece, so at the urging at someone at Woodwind & Brasswind I tried an SRTech Pro mouthpiece. I tried it, loved it, and played it for many, many years. It had a nice deep and round sound like a Link and a somewhat easier altissimo register.

However, always searching for more and better tone, and an easier altissimo register, in 2016 I bought a couple more mouthpieces, one of which is a Jody Jazz DV 7*.  It's got a bright, round, searing tone that I love and it has become my one and only mouthpiece. Totally easy throughout the entire natural range of the horn, and the altissimo sings easy. I love it!  I'm using a Francois Louis ligature on it which I like because it's very precise and efficient.

Having said all that about mouthpieces and the altissimo register, the biggest and most pervasive change I've ever made on my saxophone and my playing is by replacing the Yamaha C1 neck that came with the horn with a Yamaha V1AG (sterling silver) neck. After struggling literally my whole adult life with the altissimo register, suddenly, after putting on that neck, it's crystal clear, in tune, and easy to play. In fact, the whole horn is easier to play and it plays better in tune from top to bottom. An amazing difference, really, and I can't recommend enough to any sax player who is trying to make their horn play easier to try a new and better neck!
(These days, I'm recording with the SR Tech Pro, and playing live with the Jody Jazz. There's a nice dark richness that comes out of the SR Tech when closely mic'd.)

Reeds: Until quite recently I was using Fibracell reeds. But lately I've been experimenting with cane reeds and have been using D'Addario Select Jazz 2 Medium. I'm getting a slightly warmer sound with them and I'm finding that I'm enjoying the associated reed cane processes: humidity control, etc.

I keep my sax in an Protec case.

Speaking of Yamaha tenors, you might want to check out my friend, Robert Kyle's, music. He, too, plays the circa 1990 Yamaha Silver-plated YTS-875S Custom Tenor Saxophone, also gets a beautiful and warm tone, and is an extraordinary musician and saxophonist.